Suupohja koulutuskuntayhtymä Vuoksi provides and develops versatile and high-quality vocational qualification to promote the well-being of the society, region, and people in close cooperation with employers and their establishments, and other interest groups.
As a regional vocational upper secondary education provider, we have a mission to provide the knowledge and the skills that meet the needs of the working life and future. We built with our students flexible learning environments and individual study paths for the motivation of our students and through them the key to successful learning.
Suupohja koulutuskuntayhtymä Vuoksi is administered by the Suupohja Federation of Municipalities: Isojoki, Karijoki, Kaskinen, Kauhajoki, Kristiinankaupunki, Kurikka, Närpiö and Teuva.
We have over 550 full time students. Vocational education and training (VET) is popular among young people in Finland. Over 50% of young people applying to secondary level studies choose VET. Nowadays the adult training is integrated with the youth education throughout Finland. We have about 100 staff.
What we offer
Vocational qualifications in study fields such as agriculture, business and administration, forestry, construction, catering, machinery, media and visual expression, hairdressing, electrical engineering, metal industry, software development, cleaning and property services, animal care and horticulture; altogether 13 study programmes, all accredited by the Finnish National Agency for Education.
Furthermore, one can choose to study double degree, which means that one will have vocational qualification degree and baccalaureate. Instruction is given in Finnish, and in case of foreign students in English at the beginning of their studies.
All undergraduate degrees can be applied for all year round. In addition to full degrees, you can start studying by, for example, completing a part or parts of a degree and participating in individual trainings. Furthermore, one can apply to study short training such as hygiene passport or alcohol proficiency test.
Services
In addition, vocational training, Vuoksi diversity services for clients; the youth workshop, workshop agency, cleaning service, dressmaker`s shop, metal workshop, timber workshop, hair salon, car fixing workshop, cafeteria, VUOKSI store, restaurant Oppikokki, Happy hounds, garden shop and the municipal employment experiment.
Vuoksi also provides VUOKSI International Service, which is the centre and information point, and it serves immigrants living in the region, local businesses and basically just anyone interested in international issues.
In Kauhajoki we have, at the moment, people from about 18 different nationalities. Vuoksi International Service serves also Finnish language courses to immigrants, if needed.
We also participate in different local and international projects. Currently, our main priority considering the projects is to encourage cooperation with international partners to implement students and teachers exchange.
In the heart of Vuoksi blazes the love for our homeplace and the success for our region!
Our slogan is: "Because of each other"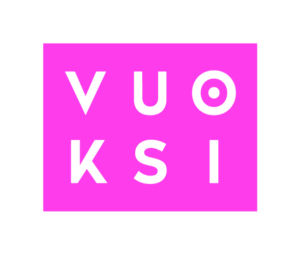 Kauhajoki Town
Kauhajoki town is situated in the southern Ostrobothnia. With its dynamic and thriving business community, Kauhajoki is the second largest town in the Province of Western Finland in terms of land area. Population is approximately 14 000.
Kauhajoki is known for its beautiful nature. Two national parks, Lauhanvuori – Hämeenkangas UNESCO Global Geopark, and the magnificent landscape of the Hyypänjokilaakso river valley will inspire any visitor to pause and admire the diversity of nature. The boundless expanse of the Ostrobothnia lowlands is a breath-taking sight.
Kauhajoki has a wide range of training and educational institutes offering general, vocational, and tertiary education.