Suupohja koulutuskuntayhtymä Vuoksi provides and develops versatile and high-quality vocational qualification to promote the well-being of the society, region, and people in close cooperation with employers and their establishments.
As a regional vocational upper secondary education provider, we have a mission to provide the knowledge and the skills that meet the needs of the working life and future. We built with our students flexible learning environments and individual study paths for the motivation of our students and through them the key to successful learning.
Vuoksi Vocational Education
Vocational qualification in Construction
Competence area of Construction, Building Constructor
Vocational qualification in Electrical Engineering and Automation Technology
Electrician
Vocational Qualification in Mechanical Engineering and Production Technology
Competence area in Assembly and Automation, Mechanical Fitter
Competence area in Production Technology,
Plater­welder
Vocational Qualification in Restaurant and Catering Services
Competence area of food services, Cook
Vocational Qualification in Business
Vocational qualification in Hairdressing and Beauty Care
Competence area in hairdressing, Hairdresser
Competence area in barbering, Barber
Vocational Qualification in Media and Visual Expression
Competence area of audiovisual communication
Vocational qualification in Information and Communications Technology
Software Developer
Vocational Qualification in Agriculture
Competence area of Animal Husbandry, Animal Attendant
Competence area of Agriculture, Rural Entrepreneur
Vocational qualification in Horticulture
Competence area of Horticulture, Gardener
Vuoksi Employment Services
Vuoksi provides employment services in the Suupohja region, covering Kauhajoki, Teuva, Isojoki and Karijoki. The clients are unemployed job seekers for whom we offer individually tailored services.
Our employment services are actively involved in implementing youth education and society guarantee programs. Youth outreach work is a part of our diverse range of services. Additionally, we organize workshops for young people under 29 years of age in the Suupohja region. The goal is that during the service, each young person finds a clear plan for their future and acquires the skills to succeed in the world.
Vuoksi International Services
Vuoksi provides VUOKSI International Service, which is the centre and information point and it serves immigrants living in the region, local businesses and basically just anyone interested in international issues.
We have in Kauhajoki, at the moment, people from about 18 different nationalities. Vuoksi International Service serves also Finnish language courses to immigrants.
In the heart of Vuoksi blazes the love for our homeplace and the success for our region!
Our slogan is: "Because of each other"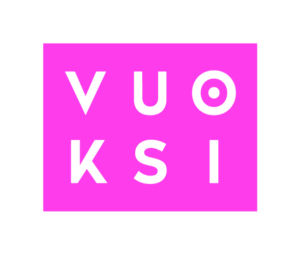 Kauhajoki Town
Kauhajoki town is situated in the southern Ostrobothnia. With its dynamic and thriving business community, Kauhajoki is the second largest town in the Province of Western Finland in terms of land area.
Population is approximately 14 000.
Kauhajoki is known for its beautiful nature. Two national parks, Lauhanvuori – Hämeenkangas UNESCO Global Geopark, and the magnificent landscape of the Hyypänjokilaakso river valley will inspire any visitor to pause and admire the diversity of nature. The boundless expanse of the Ostrobothnia lowlands is a breath-taking sight.
Kauhajoki has a wide range of training and educational institutes offering general, vocational, and tertiary education.